So I'm seeing the Lady Gaga concert in ONE MONTH with my friend Katie. It was after a sequence of miracles that I get to go, so I want to make the absolute most of it. Yesterday, Katie sent me a text about what it is I'm wearing and she asked me for some ideas. "I have no idea where to start!" she said. I don't blame ya, Katie. There are HUNDREDS of Gaga-esque styles to chose from out there.
So in response to that text, I've put together here a quick look-book of Gaga styles that are often seen worn by little monsters at the concerts. I'm thinking about what is easy and what is modest. Feel free to work off of any of these.
1. The Fame Look
Probably the look she's most known for. Also her oldest look.
All you really need for this look is a disco stick, biker gloves, a mask or some glasses, and an all-black outfit with some hefty boots. The glasses are actually really easy to make. I've seen everything from sequins to mirrors to fake jewels to pony beads used for the "diamond" effect. Just add with some hot glue to some aviator glasses, and you're set! The disco dress, while a little more complicated to reproduce, provides a lot of inspiration for her fans.
You also must have a blonde wig, which you can buy for cheap here.
Also very present in this look is what I like to call the "SuperHero Hood," which can easily be reproduced with jut a bit of extra fabric.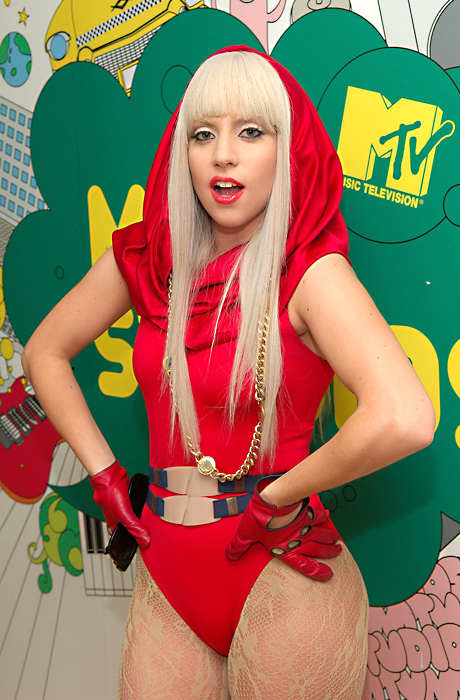 Also popular... the BOW!! This is repeated almost INCESSANTLY by Lady Gaga look-alikes.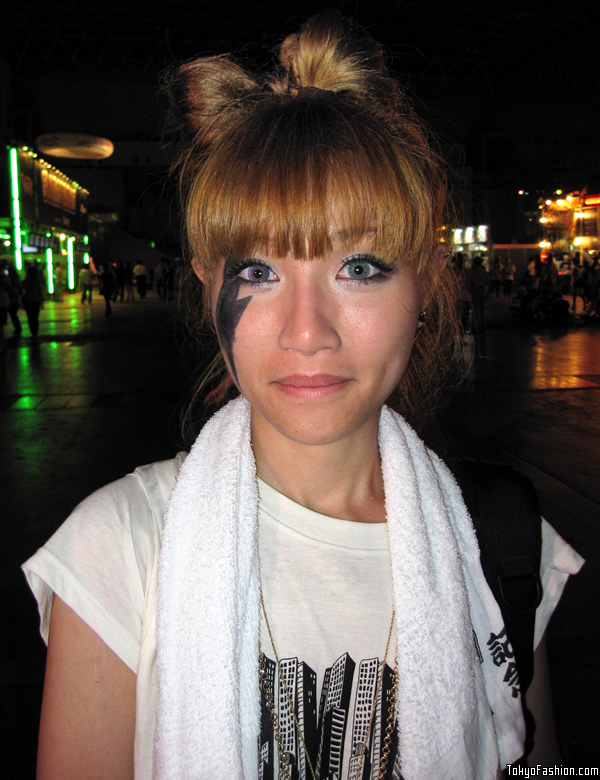 You can buy them online here, but mind you, they are a little on the expensive side. My choice would be to either do it with your own hair if it's long enough (here's a video on how to do it) or just make one out of a cheap wig you find at a party store.
Go here for more looks. There are literally HUNDREDS of ideas you can find out there on the interweb....
2. The Telephone Music Video Looks
Lady Gaga had some very iconic outfits in the Telephone music video. Her clothes changed at least 7 times. In one scene, she wore nothing but caution tape. In another, a leather jacket with a bikini underneath. I also really liked the soda can curlers. I think I'm going to do that with my hair at the concert. It works better, however, with longer hair. I'd also look at the end dance scene where everyone wears Americana. Very iconic. Also in the Telephone music video: Cigarette Glasses. Fans wear these all the time.
This video was when Gaga premiered her yellow wig. Later, during her promotional tour for Telephone, she also flaunted a yellow-and lavender combo which is pretty rad. You can find them and a TON of other Lady Gaga halloween costumes here.
3. The VMA's
It's more than likely you'll see a lot of these at the concert.
Really easy. White Leotard. Red lace. Maybe this wig...
4. Bad Romance
Here's a video. People often like to imitate the crowns she wears -- either black or white.
5. The Oragami Dress
I'm not quite sure how people reproduce this so well. Maybe it takes a little more time and building...
6. Paparazzi
You can see it in the video here, but this look extends far beyond just the video...
All you need here is a big hat, some pompous-looking outfit, round sunnies, and a bit of a lipstick job. A classier Gaga if you ever saw one.
Other looks by the Lady that are often used as costume inspirations....
Some things to look for:
lace of any color
mirrors (think disco balls)
Biker Hats
Leather jackets
high heels
boots
Sunglasses of any type
sequins
wide-brimmed hats
latex
black tulle veils
masks
crimped hair
blood smears
studs
bandannas
suspenders
feathers
ripped stockings
animal prints
Hello Kitty
Black suit jackets
bones
lightning bolt makeup
side ponytails
flesh colors
fur
false lashes
zippers
leather leather leather
glitter glitter glitter
GAGA GAGA GAGA